Recently, inspired by a conversation with a friend in Spoons (it's how all the Pulitzer winners get their writing ideas), I outlined why Eden Hazard can never be considered one of the greats.  The main thrust of the article was that talent only gets you so far, and it must be combined with the intangibles to concoct a cocktail of immortal footballing greatness.
Consider this a companion piece. After writing that article, I started thinking about who I'd put on a team designed to win the Premier League. Not necessarily the most talented team – this isn't simply an "Is X better than Y?" article – but the team most likely to win.
Talent plays a massive part, of course, but it's only one of four factors I'm basing this on. This isn't a FIFA dream team. Rather, consider it thusly…
—
A trillionaire approaches you in the park, and says, "I'm buying Crystal Palace before the 2019/20 season, and I want you to be the manager. I'm selling the whole first team-"
"Even Benteke?" you exclaim
"Even Benteke," he confirms. "And you're going to put together a new team. Unlimited budget, but they have to already be in the Premier League."
"Why's that?" you ask.
"They just do. If you win, I'll give you a £10 million reward. If you don't, you have to go and watch every game that Tony Pulis's Middlesbrough play, for as long as he's there."
Obviously you'd say yes… but who would you pick? You're going to be managing these players, remember, depending on them to stay fit, relying on them to stay mentally strong, and hoping they'll step up when the chips are down.
—
Accordingly, these are our four categories:
 Talent – How good are they at kicking a football/stopping other people kicking a football?
Mentality – Are they winners/leaders, or trouble-makers/buck-passers?

Track Record – Stats, trophies, stepping up in big games, and so on
Durability – How well do they know the physio?
—
We're playing a 4-3-3 formation, but it's a rigid Klopp-style 4-3-3 rather than a Pep "You're a center back, a full-back and a defensive midfielder" 4-3-3. Regular back four, one holding mid, two center mids, two wingers and a central striker.
(All stats in this article are provided by Opta).
---
Goalkeeper
David de Gea
In the conversation: Nobody.
—
Obviously.
---
Right-Back
César Azpilicueta
In the conversation: Kyle Walker.
—
This is a bit of a weak spot in the Premier League, as it has been for years. Kyle Walker might be the most expensive right-back in the league (by far), but he simply doesn't offer enough going forwards.
Don't get me wrong – Azpilicueta isn't exactly Cafu in this regard – but he's better than Walker. His cross accuracy this season has been 19.4% compared to Walker's terrible 7.7%, and he's created 19 chances to Walker's 11, despite being part of a vastly inferior attacking team.
Fullback, Kyle Walker becomes the world's most expensive defender at £50m plus. Imagine how much he would cost if he could cross the ball.

— Gary Lineker (@GaryLineker) July 14, 2017

Defensively, they're incredibly close. Azpi's won 79.6% of his tackles, compared to 79.5% for Walker. Their respective interceptions are 29 and 28. He's made 3 errors leading to chances, to Walker's 2.
So, it's not a demolition job by any means… but I'm taking Azpi. I like the way he plays the game, and his year-in, year-out consistency. Crucially, he's always available. He's missed one game so far this season, and has started 37, 38 and 36 matches in the previous three.
I know I can count on Azpilicueta, and I know what I'm going to get from him.
---
Left-Back
Andy Robertson
In the conversation: Benjamin Mendy.
—
This one isn't even close.
Mendy's unquestionably the most talented left-back in the league, but there's no way I'm trusting him over the course of an entire year. In the past four domestic seasons, he's started 9, 4, 24 and 22 games. Also, while I can happily enjoy his amusing social media presence as a neutral, his off-pitch behaviour has driven Pep up the bloody wall since arriving.
Robertson is an easy choice here. He's got a great mentality, he's consistent, his crossing is solid (though not outstanding), and he's combative in the extreme – what he did to poor Ricardo Pereira (click below) should have been subjected to a police investigation.
I don't think Liverpool are selling him for the £8 million they originally paid, somehow, but I'm instructing my new trillionaire friend to pay whatever it takes for Robbo.
---
Center-Backs
Virgil van Dijk, Aymeric Laporte
In the conversation: Toby Alderweireld.
—
No really, I'd take van Dijk! Shocking, I know.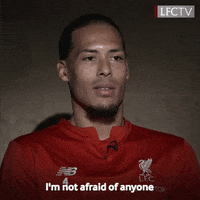 The significantly tougher question is who I'm pairing him with. There's hardly an abundance of outstanding center-backs right now, in the Prem or elsewhere, which is why Liverpool were (rightly) willing to drop a £75m nuke on St. Mary's.
Considering how the game is actually played in 2019, I'm plumping for Laporte as VVD's partner. Of the 10 players who've completed the most passes in the 2018/19 EPL season, seven of them are defenders, and four of those are center backs. If you want to overcome the frontline pressing which basically every team conducts now, you need a pair of center backs who are comfortable on the ball, and make smart passes. In van Dijk and Laporte, I've got exactly that.
Laporte has actually completed the second-most passes in the entire league, and he's only 18 behind much-maligned-back-and-forth kingpin Jorginho at the time of writing. He's completed 92% of his total passes, and has even created 8 chances – second only to David Luiz's 12 in terms of CB's I'd actually consider here.
Center backs also have to – y'know – defend, and Laporte excels in that department too. He's won 77.5% of his tackles to Alderweireld's (my other main contender) 75%, 58.8% of his aerial duels to Toby's 52.4%, and has made 30 interceptions to TA's 20.
(I would lay out some of van Dijk's defensive statistics this season, but they're obscenely good. Genuinely, I'd have to hide them behind a NSFW spoiler).
In VVD and Laporte, I've got a pair of center backs who are tall, extremely mobile, very comfortable on the ball, and defensively solid (or ludicrously good, in van Dijk's case).
---
Defensive Midfielder
N'Golo Kanté
In the conversation: Fernandinho.
—
I love Fernandinho, and I've long said (as others have, I'll admit) that he's City's most irreplaceable player. He only seems to be getting better with age, too, even as he approaches his 34th birthday.
But… come on now. Let's not mess around. Kanté's the best defensive midfielder in the world. He became the first player ever to win a title with one team… then win again the next year with a different team. Did you know that one of those teams was Leicester City? Crazy! He swept the Player of the Year awards in 16/17 as a defensive midfielder!!!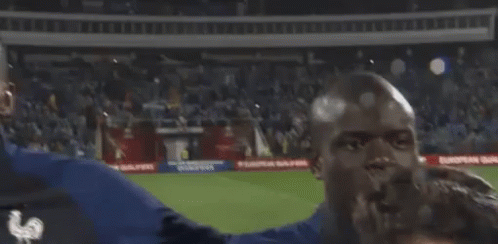 Not that we've gotten to see it this season, thanks to Sarri's… interesting tactical choices (did you know Sarri hasn't been playing Kanté as a defensive midfielder? I'm not sure if you knew that), but Kanté is the ultimate screen for a defence. If Wenger had done his job and brought Kanté in from Caen in 2015, we'd have three Premier League titles by now. As it is, I'll have to content myself with Granit Xhaka* in my real-life team, and a guaranteed trouble-free existence for my fake Crystal Palace defence instead.
(*First-time visitors should know I have a self-imposed obligation to make at least one anti-Xhaka joke per article)
---
Central Midfielders
Kevin De Bruyne, Paul Pogba
In the conversation: Christian Eriksen. (Bernardo Silva).
—
De Bruyne's the best player in the league, and probably should've won Player of the Year last season (full debate on that one here). So yeah, he's going in my team.
I thought long and hard about the other central midfield spot. In fact, it was by far the toughest selection for the entire team. Ultimately, with some hesitation admittedly… I'm plumping for the Pog.
Based on talent alone, he's a slam-dunk. Like many others, though, I really don't like how he's handled himself this season. When Miserable Mou decides he doesn't like you, obviously that stinks, but there's a right and a wrong way to handle it.
The right way is how Aguero reacted when Pep started benching him for Jesus in 17/18. You accept your enormous paycheck, shut the hell up, and play your backside off when you do get a chance. The wrong way to handle it is to put little-to-no effort in, ignore your manager's instructions, and generally sulk… then, when the manager gets fired, taunt him on social media and suddenly go on an eight goal/six assist rampage.
Pogba's an incredible player when everything's going his way, and – 2018 World Cup aside – a real pain when a manager tries to do something he doesn't agree with. Like Ed Woodward when he splurged that ludicrous £89m, though… I just can't resist the talent.
I'm getting Pogba in, pretending to laugh at his jokes at training, complimenting his Instagram whenever I pass him in the corridor, biting my tongue when he tries to roulette turn out of the press five yards outside his own box and gets caught in possession, and hoping beyond hope that he doesn't single-handedly torpedo my team.
---
Right Winger
Mohamed Salah
In the conversation: Nobody.
(Spoiler Alert: Sterling would be 'in the conversation', but he's already made the cut elsewhere)
—
I'm not the world's biggest fan of Salah's game. It's simply too… frenetic for my tastes.
If I left the fella who just broke the Premier League single season goals record off my wishlist, though, I'm not sure the trillionaire would take me all that seriously any more.
---
Left Winger
Raheem Sterling
In the conversation: Eden Hazard (technically). Leroy Sane.
—
Given that I just wrote an entire article criticizing Hazard's mental makeup, I'm obviously not picking him. He's a three-time champion (including Lille's improbable 2010-11 triumph), but with a fake £10 million on the line, I don't want someone on my team who might just decide to take the season off.
I would absolutely go to war with Sterling on my team, though.
That guy cares. He gives 100%, every single game. His finishing is rightly questioned, but he never stops trying to create chances – not just for himself, but his teammates too. Even though he failed to score and only got one assist, he was England's best player at the World Cup, constantly making smart runs, dribbling at the defence, and harrying the opposition when out of possession.
Despite the tabloid press's bizarre, years-long character assassination campaign, the reality is that he's got a fantastic, understated personality too.
(Did you know that the Mail wrote an article after the Chelsea incident with a headline starting 'Raheem Sterling abuse was spiteful and wrong but…'? But!)
Sane is unplayable on his day, and could be the best player in the league in two or three years. For now, though, I'm taking Sterling without hesitation.
---
Striker
Sergio Aguero
In the conversation: Harry Kane.
—
This might be the most 'controversial' pick of the bunch, but I don't see it as such.
Aguero's one of the best to ever play in the Premier League, and he scored the biggest goal the league has seen. He's already been a key part of three title-winning sides, and will probably pick up a couple more before riding off into the sunset (/flying back to Argentina). Going into the biggest games, I also know there's an excellent chance Kun's going to step up for me. His record against the rest of the Big Six stands at a frankly silly 43 goals in 64 games. They're supposed to be the difficult matches!
Aguero has been really, really, really good since he stepped foot in the UK. In the past year or so, though, he's somehow gotten much better, as outlined by the Guardian's Barney Ronay here. He's become more of a complete forward, who – alongside Sterling and Salah – is now capable of starting the press for me, and linking up attacking play.
As mentioned earlier, I also love how he handled the Gabriel Jesus situation in 17/18. He didn't kick up a fuss when he got benched (despite being the best striker in the league), and linked up unselfishly with Jesus when they did play together. I'm getting superstar production out of him, without the risk of superstar drama.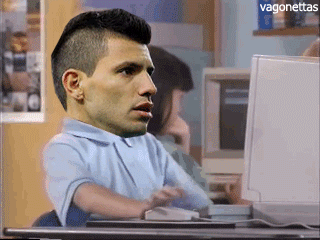 There's been a big, Harry Kane-shaped hole in this analysis so far, of course.
Kane's an excellent player, don't get me wrong… but he's not Aguero. He's simply not as good. He's got superior stats over the past three seasons, but I don't care. Maybe it just comes down to personal taste, but I've watched them both play – many, many times – and Aguero's just better.
The big advantage Kane does have is fitness. I'm probably not getting a full season out of him, but I'm definitely getting more games than I would from Aguero, who hasn't made 30 starts since 14/15. If you wanted to take Kane for that reason, I'd completely understand.
I think it ultimately comes down to a head vs heart decision, and I'm going with the heart.
---
Your 2019/20 Premier League Champions
And so, after all that, with a once in a lifetime shot at a massive wad-o-cash… this is my Premier League ride-or-die XI:
Now, to select my assistant manager.
I need someone experienced, tactically astute and media savvy, with a track record of winning trophies, and a strong connection to Crystal Palace.
Hmm…
…
…
Aha!