The Beatles – Sgt. Pepper.
Francis Ford Coppola – The Godfather.
Ernest Hemingway – For Whom the Bell Tolls.
After they'd finished their masterpieces, each of these artists were confronted with the same question. When you've achieved perfection… where else is there to go? How can you possibly follow it up?
Each of these artists in turn, however, did manage to produce further works of genius. Abbey Road. The Godfather Part Two. The Old Man and the Sea.
Even when you've achieved perfection, that's no reason to simply stop. Keep striving. Keep producing. Try to achieve it again.
—
Where do I fit into all this?
I'm on the biggest perfect betting run of my life.
Last weekend, I made seven true betting picks, and hit on all seven of them. I hit on both my flyers too.
(My multiples bets didn't come in, but they're just a bit of fun rather than serious picks, as I make clear in my column each week).
This followed up an epic mid-week, in which I'd hit on all nine bets I placed.
All told – accas aside – I've now won 18 bets in a row. 
—
It's a ridiculous run, and of course I know it won't continue forever. I will say, though, that it's certainly not all luck.
When you're betting in the first few weeks of the season, you're really throwing darts. You have no real idea of who's good and who isn't; or, more specifically, just how good or bad the good and bad teams are.
Things have settled down. Now, if you do the correct research and analysis, and arrive at a truly logical conclusion, you have a solid chance of hitting your picks. A lot of luck has been taken out of the equation. We know who the good and bad teams are, and we know the Jekyll-and-Hyde teams that you should be staying away from (like West Ham).
In short, I can't guarantee perfection every week. My fairly low-risk approach to betting – i.e. my happiness to take lower odds for surer things – should ensure a decent hit-rate, though.
—
We're following the usual structure this week – Best Bets, Tasty Tips, Flyers and Accumulators. Those categories descend roughly in my order of confidence in the picks. Load up on the Best Bets; only stick a little on the flyers and accas.
William Hill is inevitably banned in Romania, which is where I'm writing from this week. Despite there being casinos absolutely everywhere you look here. Hmm.
Regardless, I've got my hands on a decent VPN, so odds come courtesy of William Hill. Let's hope BetBright – who have provided the odds throughout my perfect run – weren't the lucky charm. Let's hope our Fantasy Premier League expert James, who was with me in Budapest last weekend when I wrote the aforementioned column, wasn't a lucky charm either.
Fortunately, I'm not a superstitious fellow.
All odds are correct at the time of writing.
---
Best Bets
These three bets are the pick of the bunch. All have less than even odds, but all have a high probability of coming in. Accordingly, you should feel confident in putting a higher stake on them.
—
1) Arsenal vs Liverpool, Both Teams to Score – 1/2
This has proven to be one of the most entertaining games in the Premier League in the past few years.
For the neutrals, that is… I haven't remotely enjoyed it for some time as an Arsenal fan.
Regardless, this matchup provides a ridiculous number of goals. Four were scored at Anfield last season, followed up by six at the Emirates. Even with Liverpool's newfound defensive solidity, you have to expect fireworks again this time out.
I slightly prefer the BTTS here, but the Over 2.5 Goals is also tempting at 8/15.
—
2) Bournemouth vs Man Utd, Both Teams to Score – 4/7
The league's biggest overachievers meet the league's biggest underachievers. A manager on the rise meets one on an insufferably long decline.
Bournemouth have been sensational this season, and they've scored particularly well, with 19 goals in 10 games. I simply can't see them getting shut out at home.
Manchester United have not been sensational this season. Still, they have also scored well in the Prem of late, with seven goals in their past three games. Their defence continues to be a train wreck, but that only makes this bet more likely to come in.
—
3) Wolves vs Tottenham, Spurs to Win or Draw- 1/3
Wolves are quickly entering The Stay-Away Zone for me. They earned draws against Man City and Man Utd. Recently, they took care of business against Southampton and Crystal Palace… then they got shut out against Watford and Brighton.
They're generally a well-managed and fairly talented team, but I just can't see them beating Tottenham.
For all the hullabaloo, Spurs are off to an excellent start. They've won seven out of 10 games, and their defence looks to have recovered the excellence it displayed last season.
This should be a tight game, but I'd be very surprised if Wolves won it.
---
Tasty Tips
Mmm. Look how tasty these tips look.
For the first time readers amongst you, these are bets that I do like very much. I just don't like them quite as much as my Best Bets. They're still worth a solid stake, though.
—
1) Newcastle vs Watford, Watford to Win or Draw- 4/9
This game could well be a stinker. Not as big of a stinker as the next game we're going to look at, but a stinker nonetheless.
Newcastle are terrible. I really hope all the Rafa apologists have once and for all realise that he's not doing a great job at St. James's. Yes, I know Ashley hasn't invested in the squad, but they haven't scored a single goal in four of their last five games for God's sake. Two of those games were against Crystal Palace and Southampton, who are also stuck in the relegation mire. One was against Brighton, who hardly have a team stuffed with superstars themselves.
Rafa is not doing a very good job. Get over it.
Following a minor blip, Watford look to have righted the ship in style. Everyone beats Huddersfield, so I'm not really counting their 3-0 last week, but the 2-0 away to Wolves was very impressive indeed.
Let's not overthink this one. It's a good team against a bad team. Even if it's a turgid 0-0 draw, we win the bet.
—
2) Stoke vs Middlesbrough , Under 2.5 Goals – 8/15
Oh my… Oh my God. What is that? It's… horrible. Eurgh! And it's getting closer all the time. It's disgusting! What is it?! Oh no. Oh my God. It looks like… it is! It's Stoke vs Middlesbrough! Run for your lives!!!
Yes, the long-awaited-by-absolutely-nobody Pulis Derby is upon us. It was prophesied in the book of Revelations as a sign of the end times, and thus it has come to pass.
From a real-life perspective, I'd rather watch a fly bump against my bedroom window for two hours than sit through this. From a gambling perspective, there's money to be made.
I took half of the Pulis Double (BTTS No, and Under 2.5 Goals) last week, and it paid off… as usual. We're taking the same half again this week – Under 2.5 Goals. I don't think I need to explain why.
—
3) Huddersfield vs Fulham, Both Teams To Score 
No

– EVS

Oy. What a depressing Tasty Tips section it's been this week. My apologies, everybody.

I genuinely can't imagine a sadder top flight game than this one.

Huddersfield have won precisely zero games, and have scored four (!) goals in 10 matches, whilst conceding 21.

Gosh, 21 goals sounds like a lot to concede, doesn't it?

Hold my beer, say Fulham, who proudly stride forwards with their TWENTY EIGHT GOALS CONCEDED. That's nearly three per game!!!

When two apocalypitcally bad defences meet, that should mean goals will be scored, right? But… both teams are terrible going forward too! Between them they've scored 15 goals in 20 games, for a combined average of 0.75.

Ladieeees and gentlemennnn. Welcome. To. Monday Niiiiiight Footbaaaaallllll!!!!!!
---
Flyers
I've only got one flyer this week, so let's get straight to it. This is obviously a bet I don't feel super confident in, meaning you shouldn't put a big stake on it.
—
1) Aguero to Score vs Southampton – 4/9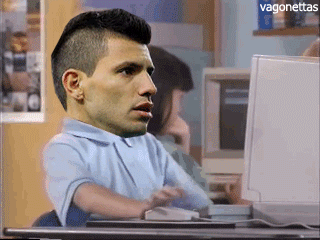 To be honest, this is half a Tasty Tip, and half a Flyer.
All the signs point towards Aguero scoring. He always scores at home, he's got four in his last six, and Southampton are rubbish.
I just don't really like betting on goalscorers in general. That's why Salah (who did end up scoring) was only a flyer in last week's column. It's too random of a market. Man City will probably win this game 3-0, but – even if Aguero is technically the most likely to score – there are still plenty of other options who could pick up those three goals between them.
I'll probably still take this, but I wouldn't recommend putting a big stake on it.
---
Accumulator Betting Tips
This isn't a great week for accumulators.
There are very few clear favourites in the Premier League. We can't even get a particularly big European favourites acca going this week – PSG have already played, Real Madrid stink, and Bayern Munich are having a weird season. That's three of our usual suspects out of the equation straight away.
—
1) Doubles Bet – 0.41/1
Man City vs Southampton
Chelsea vs Crystal Palace
This is a simple doubles bet on the two clear Premier League favourites this weekend – Chelsea and Man City. Both are in cracking form, both are playing vastly inferior opponents.
The odds are obviously low, as you'd expect, but this is worth a decent stake.
—
2) European Favourites Acca – 1.21/1
Rayo Vallecano vs Barcelona
Juventus vs Cagliari
Inter vs Genoa
Manchester City vs Southampton
Putting my moaning from earlier aside for a moment, I do actually quite like this accumulator. Juventus and City are sure things. Inter have been in excellent form, beating Milan and Lazio in the past two weeks. Barcelona just demolished Real Madrid without their best player, and now play the second-worst team in the league.
What could possibly go wrong?
---
Final Thoughts
Right, that's your lot for today.
Will I keep the perfect streak going? Almost certainly not, but thanks for being along for the ride while it lasted.
As always, please give Full 90 Football a follow on Twitter, a like on Facebook, and a good old-fashioned verbal recommendation to your pals.
Have a great weekend, everybody. Tell yourself you've earned the break, even if you haven't really!