Welcome to our analysis of the biggest Premier League transfers so far. We'll kick off by listing those transfers by value, then we'll evaluate each deal in turn.
—
The silly season that is the transfer window is well underway. It's a ridiculous time of year, but I love it.
For the first time, the Premier League transfer deadline has been moved forward, so that it takes place before the start of the new season.
Specifically, the Premier League transfer deadline day falls on Thursday August 9th – the day before the first of this year's EPL fixtures. 
This was a move with which literally everyone agreed (except perhaps player agents). The first two weeks of the season had effectively become write-offs. You couldn't be sure if the teams you were watching then would actually be the teams you'd watch for the rest of the season.
Premier League Transfer Deadline Day, for all the hullabaloo Sky Sports liked to make about it, has also been a damp squib for years. This move has a chance to – hopefully – breathe some life back into it.
—
Some £800 million has already been spent on Premier League transfers so far. Premier League transfer spending hit £1.47 billion in 2017 summer transfers, so it's highly likely that we've still got plenty of big deals to come. 
These are the 10 biggest Premier League transfer done deals so far:
| Name | From | To | Fee |
| --- | --- | --- | --- |
| Riyad Mahrez | Leicester City | Manchester City | £60m |
| Alisson | Roma | Liverpool | £56m |
| Naby Keïta | RB Leipzig | Liverpool | £54m |
| Fred | Shakhtar Donetsk | Manchester United | £53m |
| Jorginho | Napoli | Chelsea | £51m |
| Richarlison | Watford | Everton | £40m |
| Fabinho | Monaco | Liverpool | £40m |
| Felipe Anderson | Lazio | West Ham | £34m |
| Lucas Torreira | Sampdoria | Arsenal | £27m |
| Jean Michaël Seri | Nice | Fulham | £27m |
Let's look at each of the Premier League's biggest transfers in turn. We'll evaluate factors including the fee, how necessary the transfer was, how well the new addition fits in, and so on.
---
Premier League Transfers Rated
—
1) Riyad Mahrez
Club: Manchester City
Age: 27
Fee: £61m
Position: RW
Nationality: Algeria (Born: France)
International Caps: 39
Your new number 26!@Mahrez22 💙 #welcomeriyad pic.twitter.com/g1UMciVY4P

— Manchester City (@ManCity) July 10, 2018
I'm still not sure what to make of this transfer. In part, that's because I'm still not sure what to make of Riyad Mahrez himself. His career has swung wildly from one season to the next.
At the start of the 2013-14 season, Mahrez was playing in Ligue 2, with Le Havre.
In 2015-16, he was the PFA Player of the Year, and won a title. He looked like one of the best players in the Premier League.
In 2016-17, he dropped from 17 goals and 11 assists the previous season, to 6 goals and 3 assists. He was outstanding in the Champions League, contributing 4 goals and 2 assists in 9 games… but we started to get the sense he only turned it on when he wanted to.
Before the 17-18 season, Mahrez said he was off. Leicester City said he wasn't. He tried again to force a transfer in the winter window, only to be refused once more. He subsequently skipped training for several days, and was dropped for two games.
Sounds like a down year, right? Well, it actually wasn't! Even with everything that was going on, he still finished with 12 goals and 10 assists.
—
Of all the Premier League confirmed transfers so far, this is the biggest. And yet… it's impossible to call it a good or bad deal.
Mahrez certainly has £61m's worth of talent. He does feel like a gamble at that price, however, because you simply have no idea what you're going to get out of him.
There are also question marks over whether he'll even be in the Manchester City first team, particularly if Sterling and Sane play as well as they did last year.
Gun to my head, however, I think this signing works out well.
Mahrez has spoken before about what an ambitious person he is, and now he finally has the chance to prove himself at a top club. I think Pep rotates him with Sane and Silva, and gives him enough game time to keep him happy.
In the right circumstances, we've already seen how Mahrez can demolish the Premier League. He might not hit those heights again this year, but I'm betting he makes a significant impact this season, domestically and in Europe.
---
2) Alisson
Club: Liverpool
Age: 25
Fee: £56m
Position: GK
Nationality: Brazil
International Caps: 31 
I love this signing. I absolutely love it.
For years, conventional wisdom has been that you don't spend big on a keeper. Buffon's move from Parma to Juventus – at £32m – was the goalkeeper transfer record from 2001 until 2017.
That's ridiculous.
Even now, David De Gea is the fourth-most expensive goalkeeper of all time… at £18m.
Manchester City were the ones who finally broke the goalkeeper transfer record in 2017, bringing in Ederson for £34m. They replaced a shaky keeper with one they were sure was the real deal, and subsequently won the title, conceding the least goals in the league in the process.
Now, Liverpool have smashed that record.
—
Welcome to @LFC, @Alissonbecker. 🔴https://t.co/t4msWAm2sU pic.twitter.com/2xefw3zIFU

— Liverpool FC (@LFC) July 19, 2018
No questions whatsoever should be raised about the fee Liverpool have paid here.
They saw how a top new goalkeeper helped turn around Manchester City's fortunes.
They saw the benefit of the "whatever it costs" approach themselves last season, when they demolished all previous Premier League transfer records for defenders. They splashed out £75m on Virgil van Dijk, and it transformed their defence. 
Alisson is as close to a sure thing as it gets.
He's a terrific keeper. His large frame and aggressive style mean that he commands his area brilliantly. His distribution can be simply astounding. He's an excellent shot stopper, as you'd expect from any top class keeper.
He's pretty good with his feet, too:
Oh, and he's been keeping Ederson – the Premier League's second best goalkeeper – out of the Brazil side.
What's not to like?
---
3) Naby Keïta
Age: 23
Fee: £54m
Position: CM
Nationality: Guinea
International Caps: 28
BIG Klopp hug for our new No.8! 🙌🙌#LFCPreSeason https://t.co/jzzSPRWv10 pic.twitter.com/CqA2nACwqV

— Liverpool FC (@LFC) July 2, 2018
There's no question as to which club has had the best Premier League transfers in the 2018 summer. Liverpool take that title by a landslide.
Obviously we've known Keïta was coming since last summer. The club's willingness to commit such a large chunk of money to a player, then not even have him for a year, is a ringing endorsement.
From what I've seen of him, it also looks like one which will pay off massively.
Keïta is a true box to box midfielder. After watching Leipzig play Marseille in the Europa League, I described him as "a wonderfully dynamic presence, always looking to drive or pass forwards quickly with the ball."
Liverpool's midfield was unexpectedly excellent in the second half of last season, after losing Coutinho and Alex Oxlade-Chamberlain stepped up. Well, Keïta is a bit like The Ox, but better. His passing range, in particular, is far superior.
He can do stuff like this too, which is pretty cool…
The price is definitely steep, but Liverpool – as discussed – aren't really looking at the price tags at the moment. Keïta still has his prime to come, and brings something different to the team.
He's certainly no "replacement" for Coutinho – you won't find many of those in world football. In many ways, though, he actually suits Klopp's style much better.
---
4) Fred
Age: 25
Fee: £53m
Position: CM
Nationality: Brazil
International Caps: 8

The wait is over.#BemVindoFred 🇧🇷 #MUFC

Read: https://t.co/9xFjVm9Z9U pic.twitter.com/AZpfUYk3fH

— Manchester United (@ManUtd) June 21, 2018

I've been pretty positive about all the big Premier League transfers so far. This is the first one that gives me pause for thought.
Off the bat, I'll confirm that I've never actually seen Fred play. I don't get to watch a lot of Shakhtar Donetsk, usually.
During my recent travels, however, I spent a week in a co-working villa, and one of the other guys there was a massive Brazilian football fan.
He was stunned by the fee being floated for Fred in the Premier League transfer rumours, and outright flabbergasted when it became a done deal.
This guy knows football (his full time job is to analyse Brazilian league games), and he described Fred as a highly defensive player, with a limited all-round game.
You could've described Fernandinho in similar terms when he came over (also from Shakhtar), and – for £53m – you'd hope that Fred would develop his game as his compatriot has.
If he doesn't, then Manchester United had better hope he becomes the next Kante.
If that doesn't turn out to be the case either… well, even if he becomes a solid defensive midfielder, this feels like a massive overpay.
Man Utd already have the excellent Matic, who's still only 29. They have Scott McTominay, who showed great promise. They have Herrera, who can play that deeper role. Fellaini's sticking around too, who can cover there too if needs be.
Finally, he doesn't have a huge amount of big game experience. He's played for Internacional and Shakhtar, who are both big clubs – sure. Shakhtar have dominated the Ukrainian league for years, though, and he's only played a couple of knockout during his time there.
I could be way off on this one. Again, I've never seen Fred play. From what I do know, this seems like a massive – and unnecessary – gamble.
---
5) Jorginho
Age: 26
Fee: £51m
Position: CM
Nationality: Italy (Born: Brazil)
International Caps: 8
Our new number 5️⃣! #WelcomeJorginho pic.twitter.com/wdjKSOASiU

— Chelsea FC (@ChelseaFC) July 14, 2018
It's no Malcom to Barcelona, but this is the most controversial of our big confirmed Premier League transfers so far.
The transfer gossip is that Guardiola thought Jorginho to Man City was a done deal. Then, Jorginho's former Napoli coach – Maurizio Sarri – signed with Chelsea, and the next thing poor Pep knew Jorginho was off to southwest London.
—
You can basically take everything I said about Fred, and flip it for Jorginho.
He's a far more rounded central midfielder. He's both comfortable in the tackle, and has already turned heads with his proficient passing, completing 98 passes in a single half on his debut.
Jorginho doesn't just rack up empty passing stats rolling the ball back and forth, though. He's got tremendous range, and can be a threat even from deep positions:
In short, he's exactly what Chelsea needed.
Chelsea thought they had the final piece of their midfield puzzle in Bakayoko, but he clearly needs a year or two to mature. Jorginho is 26, and started 33 games during Napoli's thrilling 17/18 title challenge.
Last season, Conte basically had the choice between starting Fabregas… and not having any creativity at all from his midfield. Fabregas still has a part to play, but there are some games for which he's simply not suited. Now, Sarri has an excellent alternative.
£51m is a lot to spend, but this seems as close to a sure thing as you could hope for.
---
6) Richarlison
Age: 21
Fee: £40m
Position: LW
Nationality: Brazil
International Caps: 0, (10 at U20)
🌎 | From Brazil to the Blues. Introducing @Richarlison97, who joins #EFC on a five-year deal.

➡️ https://t.co/qX2Moaem9H pic.twitter.com/Y1YiYcBqAu

— Everton (@Everton) July 24, 2018
This is easily the most fascinating – and surprising – of the big Premier League transfers so far.
I love it.
Not for the fee – definitely not! – but for the ridiculous gamble it represents.
—
Richarlison burst onto the scene with Watford, scoring five goals and getting four assists in his first 16 starts.
The last of those came on December 12th. For the entire rest of the season, he managed precisely 0 goals and 0 assists.
There are three main points you can make in Richarlison's defence:
He was – and is – extremely young, and had only just come over from Brazil.
The rest of Watford's attack wasn't exactly setting the league alight – as a team they mustered a mediocre 44 goals in 38 games.
He clearly has a huge connection with Marco Silva. He's described the (Portuguese-speaking) manager as "like a father", and his drop in form can be traced quite neatly to when all the Watford vs Everton Silva silliness was going on last season.
—
There's absolutely no doubting Richarlison's talent. He was the best young player in Brazil when he played for Fluminese, and immediately looked like one of the better left wingers in the Prem when he came over.
The drop-off from that electric start was staggering, yes, but I think the extenuating factors amply explain that.
He's got flair that can bring a crowd to its feet, a solid build for his age, and has already showed a rare eye for goal for a true winger.
Did I crown him the most comedically entertaining player in the Premier League only a few short months ago? Ahead of even Danny Wellbeck? Sure!
And yet, somehow, I've talked myself into this transfer. Everton have plenty of money now, they desperately need to liven up their attack, and Richarlison's got a huge amount of potential.
I can't believe I'm saying this, but… I actually approve of this most ludicrous of EPL transfers.
I have no problem at all with £40m for Richarlison. 
---
7) Fabinho
Age: 24
Fee: £40m
Position: CM/RB
Nationality: Brazil
International Caps: 4
In profile with our first signing of the summer…Fabinho's journey to #LFC 👉 https://t.co/NY4fKhlV8T pic.twitter.com/d2IcDsiByO

— Liverpool FC (@LFC) May 28, 2018
It's rare that we get truly surprising football transfer news nowadays. Every potential move is mooted or leaked in newspapers, on Reddit and on Twitter days, if not weeks in advance.
Fabinho's big move bucked that trend.
Despite working on the deal since February (you can read an excellent account of how everything unfolded here), Liverpool somehow managed to keep everything under wraps more or less up until the unveiling.
They also got him for £40m. That looks a very reasonable fee, especially considering transfer rumours the previous summer of much larger bids from PSG being rejected. 
All-round, this looks a great piece of business by Liverpool.
—
On the field too, this is an extremely low-risk transfer.
Despite only being 24, Fabinho has a tremendous amount of experience. He made a hefty 167 league appearances for Monaco, becoming a full-time starter when he was 21, and playing all-but-one game during their 2016-17 title-winning season. He's made 23 appearances in the Champions League already, and was outstanding in Monaco's run to the semi-finals in 2016-17.
Fabinho is an extremely solid all-round midfielder. His strengths lie in his defensive work, but he's a capable passer too. In fact, he led all of Ligue 1 in total passes, tackles won and aerial duels won last season.
He's also versatile, capable of playing as a center mid, defensive mid, or right back (though he did say, in a recent interview with Four Four Two, that he'd rather play in midfield).
—
Liverpool's midfield was hardly a weak point last season. Now, they've added experience, physicality and technical ability in Fabinho and Keïta. Just as the latter is a better version of the Ox, the former is an upgrade on the now-departed Emre Can.
I'd hesitate to say these Liverpool transfers make them title contenders. They do, however, ensure Liverpool have a deep enough squad to mount challenges in England and Europe this year.
---
8) Felipe Anderson
Age: 25
Fee: £34m
Position: AM/RW
Nationality: Brazil
International Caps: 1 (4 at U20, 2 at U23)
 
West Ham United are delighted to confirm the Club record signing of Lazio attacking midfielder Felipe Anderson! #ThatFelipeFeelinghttps://t.co/67szkpMLG6

— West Ham United (@WestHamUtd) July 15, 2018
Last season could hardly have gone worse for West Ham. After finally getting their big stadium move (y'know, the one that they paid almost nothing towards), the Hammers endured a miserable year.
They finished with a -20 goal difference, which – thanks to the poor quality of the teams below them – somehow saw them to 13th place. Neither Slaven Bilić nor David Moyes inspired confidence from the top.
Oh, and this happened too:
Well, like any good Premier League club, West Ham are looking to spend their way out of trouble as fast as possible.
They've already put together some £85million's worth of confirmed transfers this summer (full list here), making almost none of it back in sales.
—
Enter Felipe Anderson.
He's the biggest of all West Ham's summer 2018 transfers so far, at a cool £34m.
Anderson is a versatile attacking player, capable of slotting in on the right wing, central attacking midfield, or a little further back if needs be. He works hard for the team, can bang them in from outside the box, and is generally an extremely gifted technical player.
Oh, and he's also very, very quick.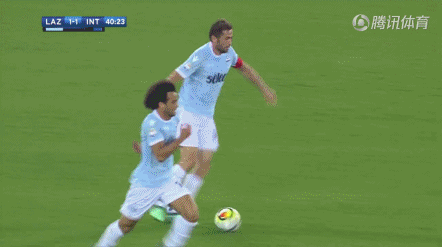 Most importantly for West Ham's needs, he's also an excellent playmaker. He missed a large chunk of last season through injury, and still managed to contribute 7 assists in 21 appearances (9 starts).
The Hammers desperately needed to overhaul their midfield.
In the 2017-18 Premier League they finished 16th in completed passes, 15th in ball touches and 13th in possession. That's fine if you're playing a direct style and put your chances away… but they only managed a pedestrian 48 goals in 38 games, and relied entirely on Arnoutovic to carry them late in the season.
Felipe Anderson – a high-level playmaker – will help enormously in this respect. Throw Jack Wilshere into the mix, and West Ham can consider their midfield truly transformed.
—
Still, this isn't a slam dunk.
At Lazio, Anderson was part of one of the best attacks in Europe. They broke the club record last season for goals scored, and – without wishing to belittle his achievements – it's easier to rack up assists when you're playing behind the likes of Ciro Immobile, and alongside Milinkovic-Savic and the excellent Luis Alberto.
West Ham's attackers are no scrubs. They're nowhere near as good as Lazio's, however, and we'll have to see whether Anderson can replicate his form with inferior teammates surrounding him.
He's had a couple of big injuries too, missing 20 games with both Santos (where he played with Neymar) and Lazio for separate, major ailments. Only the first of these was related to his legs, though, and that happened back in 12/13.
 —
Overall, the signing of Felipe Anderson is a massive coup for West Ham; Manchester United were chasing him last summer.
If West Ham want to get to the next level – and justify their big new stadium which everyone hates – they need to be buying Champions League-quality players. That's exactly what Anderson is.
---
9) Jean Michaël Seri
Age: 27
Fee: £27m
Position: CM
Nationality: Ivory Coast
International Caps: 18
🇨🇮 #SERIous business. 😎 pic.twitter.com/AatwjqMqaq

— Fulham Football Club (@FulhamFC) July 12, 2018
Talking of massive coups…
Who would've seen this coming? Transfer talk has linked Jean Michaël Seri with some of the biggest clubs in the Premier League for years. Now, he's on a team that finished third in the Championship last season.
—
Okay, so that's slightly misleading.
Like Wolves, the 17/18 Fulham team were clearly a Premier League-quality side. In fact, given how terrible the bottom half of the league was last year, they'd probably have finished lower-mid table.
Their midfield was arguably their strongest unit, making this a doubly surprising transfer. Tom Cairney is a lovely player, and either Kevin McDonald or Stefan Johansen (probably the latter) will feel hard done by when they're displaced next season.
—
When you get the chance to bring in a player like Seri, though, you don't think twice.
Any Jean Michaël Seri profile will feature the word "playmaker" pretty heavily, and that's justified. In 2016/17 – the season in which he really started to be linked to top clubs – he got 9 assists, to go with 7 goals.
Generally speaking, though, he's not someone to sit back and spray passes. He's more of a box-to-box midfielder, with a high work rate and excellent stamina. His movement is strong too – immediately after passing, he looks to get into space and make himself available once more.
There was a sense last season that Fulham passed the ball simply for the sake of possession. Seri should give them the directness which they'll need in the Prem.
He's not the most well-rounded player. His height – 5ft 6in – makes him a non-factor in the air. He's flat out weak in the tackle too, averaging only 0.48 tackles per game last season. Cairney and McDonald, by comparison, averaged 0.79 and 1.29 respectively.
—
Again, this is an extremely surprising transfer in multiple ways. I love the ambition it shows, though. Fulham are hardly a poor club – their owner is about to buy Wembley Stadium, after all -but you still wouldn't expect to see their name amongst the biggest Premier League Transfers so far.
I was already hoping for big things from Fulham this season. With this signing, I'm now expecting them instead.
---
10) Lucas Torreira
Age: 22
Fee: £27m
Position: DM
Nationality: Uruguay
International Caps: 8
We're excited to have you with us, @LTorreira34 👊#WeAreTheArsenal 🔴https://t.co/vKUK48McMZ

— Arsenal FC (@Arsenal) July 10, 2018

I'm going to try my best to keep my analytical hat on here, and not drone on about how much I adore this transfer as an Arsenal fan.
I can't promise anything, though…
—
Rarely, if ever, have the words "defensive midfielder" appeared in Arsenal transfer news in recent years.
In fact, in the last decade, Arsenal have spent a total of £11 million on defensive midfielders…  and all of that went on one player: Mohamed Elneny.
(Granit Xhaka is not a defensive midfielder – trust me, I've had to watch him play for two years).
It's fair to say that Arsene Wenger didn't exactly value the position, to the enormous and increasing frustration of Arsenal fans.
Well, he'd only been out of the job for about two months when the new power-brokers at the club – Gazidis, Mislintat et al – splurged £27 million on… a defensive midfielder!
—
This signing was music to my ears before I'd even seen Lucas Torreira play. Having seen his displays at the World Cup, and heard the various hyperbolic analyses about him ("he's the best since Busquets!"),  I could hardly be more excited.
The obvious comparison for Torreira is N'Golo Kanté. Both are around 5ft 6in, and Torreira seems similarly aggressive and relentless. He's extremely mobile, with excellent lateral quickness, and showed good defensive instincts.
Like Kanté, Torreira is also a solid passer.
He created 33 chances in 33 games for Sampdoria in Seria A last season (per Squawka); impressive for a defensive defensive midfielder. Overall he completed 87% of his passes, with 78% of those going forwards. He doesn't get hugely involved in the buildup, only averaging around 60 passes per game, but he takes care of the ball well.
He also showed something of an eye for goal last season. Having failed to score in 16/17, he chipped in with four goals in 17/18, including this screamer:
—
A new era has begun at the Emirates.
If you'd told me, heading into the window, that amongst the EPL latest transfer news Arsenal would've signed a goalkeeper, centre-back, defensive midfielder and a right-back, I'd never have believed you.
Arsenal head into the 2017/18 Premier League season with a far more solid team. Torreira is a huge part of that.
He's yet to play a competitive game for us, of course, and expectations should be managed. That said, he's the kind of signing we've been crying out for for years, and I'm delighted to have him on board.
If he displaces Xhaka in the starting lineup… well, then I'd truly be in dreamland.
---
Biggest Premier League Transfers So Far – Final Thoughts
Well, that concludes our analysis of the biggest Premier League transfers so far.
To finish off with, I want to touch on a related subject: Twitter announcements for the latest football transfers.
I don't know when this started, but we're in the midst of a quite ludicrous arms race. Nowadays, if your social media team isn't getting the new signing to play the club's anthem on a piano, or crafting a full-on manga video for him, they're just not trying hard enough.
⛩🍱🎋🎎 pic.twitter.com/A1zbND6IAd

— Real Betis Balompié (@RealBetis) June 1, 2018
It's not the videos I want to focus on, though, so much as the hashtags.
With so much time and effort being put into those videos… why are the hashtags so terrible?!
The eagle-eyed amongst you will have noticed I've embedded the welcome tweet for each signing atop their profile. Some of these contain bespoke hashtags for the new player.
Interestingly, both Everton and Liverpool bucked the trend entirely.
Chelsea and Man City have both played it safe, and gone with the most common current choice – "#WelcomePlayerX".
Man Utd have put slightly more effort in, with their Twitter lackey hopping onto Google Translate and coming up with, "#BemVindoFred".
Like the other top clubs, Arsenal played it relatively safe. The tame "#TimeForTorreira" doesn't exactly gel with the ridiculously overblown video that accompanies it.
West Ham take the runner-up spot for silliest hashtag, with "#ThatFelipeFeeling", but there's no doubting the winner.
🇨🇮 #SERIous business. 😎 pic.twitter.com/AatwjqMqaq

— Fulham Football Club (@FulhamFC) July 12, 2018
SERIously?
—
As always, please follow us on Twitter and like our Facebook page to check out the latest posts as they go up.
Finally, thanks for reading everybody!