We're only two weeks into the 2018-19 Premier League season, and already there's been plenty of drama at the top of the table.
In the second round of Premier League matches, Manchester City brushed off the absence of Kevin de Bruyne to thrash Huddersfield, Chelsea and Arsenal played out a five-goal thriller at Stamford Bridge, and the dark clouds continued to mass over Old Trafford following Manchester United's limp defeat at Brighton.
Further down the table, Bournemouth and Watford made it two from two, but West Ham suffered a second successive defeat, and Southampton once again failed to convince, losing at Everton.
Cardiff enjoyed a good weekend, picking up their first point of the campaign against Newcastle, but fellow newcomers Fulham lost again. Last year's Championship winners, Wolves, couldn't get the better of 10-man Leicester at Molineux.
Here's how the 2018 Premier League table stands after two weeks:
---
No De Bruyne, No Problem
Critics of Manchester City will often cite their astronomical wage bill and transfer spending as the main reason for their success. Guardiola-sceptics are also fond of pointing out that he's been fortunate to work with the world's best players in all three of his coaching jobs.
While there may be some truth in both of these theories, there is clearly much more to City (and to Guardiola). Spending enormous sums of money is not enough to make a club Premier League champions. To do that, you also need the most effective game plan.
City have that plan. This was proven again this weekend. Kevin de Bruyne's knee injury robbed them of their leading creative force; the man who topped the assists table last season. But it made little difference as the champions rolled over a spirited Huddersfield side 6-1. So well-oiled is their system that it seems it can cope with any absence. Like the great Liverpool sides of the 1970s and 1980s, this City team is, ominously, more than the sum of their parts.
---
Liverpool Can Win Ugly
Well, not ugly, exactly. The Jurgen Klopp style of play doesn't tend to produce football that would warrant that adjective, but there were still question marks about his team's consistency.
On their day, the forward line of Salah, Firmino and Mane make them arguably the most exciting of the Premier League teams. An away game against a well organised and effective Crystal Palace side, however, is just the sort of scenario in which last season's Liverpool would have dropped unnecessary points.
But not this time. Against in-form opponents, the Reds dominated possession, looked fluent and dangerous and saw the game out well, securing the points in injury time to kill off any hope of a home revival. Roy Hodgson was unhappy with the red card shown to Aaron Wan-Bissaka, but Palace didn't really deserve anything from the game, and this was an encouragingly disciplined performance from Liverpool.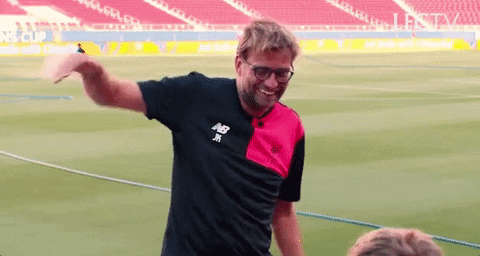 ---
Old School Londoners
Chelsea versus Arsenal was the most intriguing of the weekend's Premier League fixtures, and it didn't disappoint. These old rivals shared five goals, but Arsenal in truth could have had five themselves, with Aubameyang and Mkhitaryan missing glorious chances.
Guendouzi's reaction to Aubameyang's first half miss. pic.twitter.com/8RIkuWVWdh

— ArsenalGIF (@ArsenalGIF) August 18, 2018
Unai Emery has kept what worked up front under Arsene Wenger and added a dose of urgency, but at the other end of the pitch nothing much seems to have changed. Chelsea were able to cut through the Gunners' back line at will in the first half, and they could also have scored five.
Meanwhile, Maurizio Sarri's team allowed their opponents acres of space throughout. In the era of Gegenpressing and bus parking, the lackadaisical attitude to defending on display at Stamford Bridge looked like it belonged in a Premier League tactics museum. Unless they both sharpen up defensively, a title challenge from either of these two clubs seems unlikely, though Chelsea can at least point to a six-point tally.
---
Mourinho's Days are Numbered
It is surely a question of when and how, rather than if Jose Mourinho departs Old Trafford this season. Even if you discount the third-year itch that has seen him get the boot or self-destruct at around this stage in a number of previous jobs, there are clear signs that all is not well.
After a scrappy victory over Leicester, the worst of Mourinho's United was on display at Brighton. Timid when they should have been bold, half-hearted when they needed to impose themselves, the visitors were 3-1 down at half-time. Whereas previous United sides, managed by a certain Scotsman, might have roared back in the second half, there was barely a whimper from Pogba and co.
Mourinho seems a morose, barely interested character, his reactive tactics look stale, and whereas he once displayed a restless and ruthless ambition, at United he seems content with mediocrity.
The Paul Pogba situation is a perfect metaphor for Mourinho's malaise. One of the world's most exciting midfielders, Pogba was an ephemeral presence throughout this game and it is clear that he is frustrated with the limited role that the manager affords him. A younger, hungrier Mourinho would have brought this issue to a head by now, either forcing Pogba out or building a team around him. Instead, he lets the situation fester.
Timeline full of this. Pogba after the Leicester game sought out journalists to insinuate he was unhappy. We didn't just pluck the story from thin air. https://t.co/e3A3rhd5Zb

— Dan Thomas (@DanThomasESPN) August 17, 2018
The end is nigh.
---
Money Can't Buy You Safety
After Wolves stormed to the Championship title, the talk in that part of the Black Country was of European qualification. That was based partly on the style of football that Wolves showcased in the second tier, but mainly on the £87 million they've spent in the last two seasons.
Based on the evidence of their first two outings, Wolves will be closer to the bottom six than the top.
The biggest danger for Wolves is that they fall between two stools. What was sophisticated passing football in the Championship looks less impressive in the top flight, and battle-hardened opponents such as Saturday's visitors, Leicester, are unlikely to be frightened.
On Saturday, Wolves played well in the first half but failed to take their chances, defended poorly and then lacked the guile or composure to make their advantage count when Jamie Vardy was sent off. Tellingly, one local radio presenter suggested that perhaps they hadn't spent enough money this summer.
Time will tell, but at this stage, talk of European adventures next year is on the wildly optimistic side of far-fetched.
---
Don't Write Off Fulham
Slavisa Jokanovic's Fulham attracted only a fraction of the attention that Wolves enjoyed. The Cottagers played an even more attractive brand of football last season, though, and have outspent the Championship winners, laying out £100 million on Premier League transfers.
The team has barely had two weeks together, and it showed in their 3-1 defeat against Tottenham, but there were positive signs too, in the performances of Aleksandr Mitrovic and Ryan Sessegnon. With a little more composure in front of goal, they might even have led at one point. There will be easier challenges to come and their current position in the bottom four of the EPL table doesn't reflect their quality.
---
Things Starting to Click at Goodison
There was a controversial element to Everton's win against Southampton, courtesy of Jordan Pickford's tackle on Danny Ings, but few could argue that the home side deserved to win.
FULL-TIME Everton 2-1 Southampton

Theo Walcott and Richarlison hand Marco Silva a win on his Goodison Park #PL debut#EVESOU pic.twitter.com/kZxvpQmRzT

— Premier League (@premierleague) August 18, 2018
Following their hard-fought point on the opening weekend of the season, they have now shown both a cutting edge and a resilience in both their opening Premier League games. If they continue in this vein, they could yet threaten the top six.
The front four of Sigurdsson, Walcott, Richarlison and Tosun looked particularly dangerous, carving Southampton open repeatedly. With a number of Everton's new signings yet to take the field, the omens are good for the blue half of Merseyside.
---
Final Thoughts – City Still the Team to Beat
It is of course early days, but at this stage it's hard to argue with the many pieces of pre-season Premier League analysis that predicted a successful title defence from Pep Guardiola's men.
Liverpool may push them close this season, and with maximum points both sides are already looking ominous, while Arsenal and Manchester United have struggled.
We may not learn more about the two front-runners in the Premier League fixtures next weekend, as City take on Wolves and Liverpool host Brighton, but Manchester United versus Tottenham already has the feel of a must-win game for the home side. Burnley against Fulham and Huddersfield entertaining Cardiff, on the other hand, both look like early-season relegation rehearsals.
Please follow Full 90 Football on Twitter, and like our Facebook page, to get our latest posts as soon as they come out.
Finally, Joe's new Premier League betting strategy had an excellent first week, with him going 10/13 on his picks. Check out the strategy in full here.